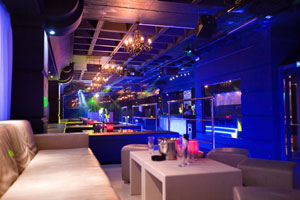 No need to remember the days when luxurious yachts sailed into Puerto Banús marina and an international jet-set gathered at this famous resort's stylish venues to party in style in one of Europe's most exclusive locations. No need to remember because those days are back!
They say the world is your oyster, and for those who can afford it the southern coast of Spain is a particularly attractive one. If you have the means to enjoy it, Puerto Banús alone offers an experience to rival the best in the Mediterranean, the Aegean or the Caribbean.
If you select the best spots within an internationally renowned destination, create a select ambience fit for classical gods, where décor and service blend into one sumptuous experience, and provide variety and delicacy in equal measure, you may just have the makings of a touch of earthly paradise.
For those whose discerning palate has been refined and their appetite for this kind of experience whetted in their travels across the globe, the fashionable Mediterranean resort of Puerto Banús has created a members club experience that relives the glamorous glory of Banús.
People who converge on Marbella in the summer in their yachts, private jets and fleets of luxurious cars are drawn to the very best that this region has to offer. While here they may brave the temperatures for a game of golf, take a trip up to the private racing circuit at Ascari, or visit such local icons as the Puente Romano or the Marbella Club, but during the day it is above all the sun that they seek.
One of the very best beach clubs that line the Marbella coastline, is the already famous Ocean Club Marbella, that caters to this market's every whim, becoming a place where a jet-set of actors, sportsmen, models and businesspeople come together to enjoy not just the sun, but options ranging from beachside waiter service and fine dining to extravagant champagne parties and magical evening gatherings.
This summer, the languid, luxuriant days at Ocean Club will reach a peak with cool sunset vibe parties between seven and ten, before the beautiful sets breaks up to reconvene at lively night-time venues such as TIBU, Bubbles and Pangea.
TIBU terrace and nightclub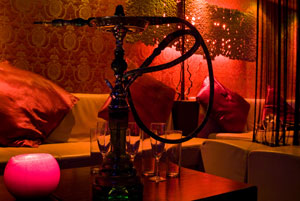 TIBU is set within the stylish shopping district of Puerto Banús, just outside the marina but conveniently close by. Here, the ambience combines urban sophistication with the effortless style of Marbella. Having walked up the red carpeted staircase to the club, you can dine 'al fresco' at the elegant Bubbles Restaurant. Early evening sees most people gathering here before moving on to TIBU's laid-back terrace area, also a popular venue for private parties and cocktail events.
Inside, at the heart of TIBU, is a state-of-the-art nightclub with private booths and lounge areas, a white bar and a hub where the resident and guest DJs will keep you moving til the early hours of the morning, accompanied by the gorgeous TIBU Angels and the trendiest crowd in town. Most nights the house music is accompanied by live saxophonists, violinists or bongo players, but on Saturdays the club is given over to the now iconic Sintillate parties, whose characteristic mix of funky house, club classics and R&B have made this UK sensation a modern institution.
Pangea Members Lounge
For those who wish to take things just a little easier, or perhaps socialise in the elevated surroundings of a stunning members club before spending the early hours of the morning at Tibu, Pangea is the icing on the cake. Its name resounds with a clientele from Marbella to Madrid and London to Berlin, for Pangea is the most exclusive, best-located nightclub in all of southern Spain.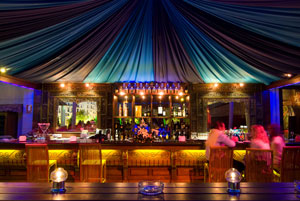 From its unbeatable location, Pangea's exclusive night terrace enjoys a panorama that spans Gibraltar, North Africa and the Spanish coast all the way to the bright lights of Puerto Banús below. Naturally located at the quay where the largest and most magnificent yachts dock, it occupies a private red carpet zone within the marina that even allows for exclusive access and valet parking. A spot where the famous and beautiful step out of limousines and sports cars flanked on the one side by 60-metre yachts and on the other by a sumptuous members club cannot help but draw a glamorous crowd.
A more refined option for people who want to chat, mingle and dance to sultry sounds with the lights of the yacht harbour in the background, Pangea is a place of superlatives, where décor, service and location come together to create an ambience that is at once lively and select. A complete VIP service is maintained all nights, but on Thursdays and Fridays the venue hosts Sintillate nights, with Saturday nights reserved exclusively for members and their guests, and Sundays dedicated to a decidedly chilled atmosphere complete with suave music and real fresh fruit cocktails.
With indoor lounge and bar areas, a white Belvedere bar and a stunningly panoramic rooftop terrace with Moët bar and appropriately luxurious furnishing, this is the venue for those in search of true glamour and elegance.