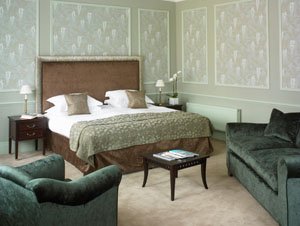 A royal connection
The Cadogan, on Sloan Street, is a gorgeous hotel with a rich history that boasts a royal connection – and quite a spicy one at that. It was here that the (in)famous Lilly Langtry entertained and her favourite guest was non other than the mischievous royal Bertie himself.
As the cab works its way through traffic amid the embassies and designer shops of Chelsea you'll spot the discreetly exclusive Cadogan standing out somewhat from a row of charming Edwardian townhouses. No grand driveways here; this understated abode is to London hotels what the Bristol is to motorcars. Once inside, you feel like you've stepped into a grand old home or in fact a gentleman's club. It's all period woodwork and finely worked mosaic tiles, so as you shut the trellis door of the lovely antique lift and make your way to your suite a sense of history and tradition comes flooding in.
There are larger or more overtly opulent hotels in London, but the Cadogan derives its elevated status – and indeed its popularity among seasoned travellers – from the combination of comfort, elegance, provenance and old-fashioned service. In short, this is one of those fine institutions for which the British are famous and of which London should be proud. Many a guest, on the other hand, will be hoping that they've been put up in the actual suite of the old cad himself. If you're lucky, you will indeed get the room used by Edward VII during his long liaison with Miss Langtry.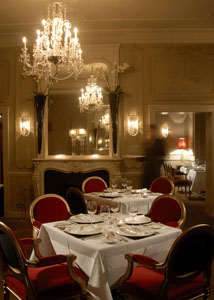 Or perhaps that of the lady herself. Other famous long-time guests were John Betjeman and Oscar Wilde, who was arrested on these very premises. No matter which suite you stay in, however, you can be smugly contented about the fact that you're enjoying the historical setting and plush décor once taken for granted by these figures of history – yet with a whole range of comforts they could only have dreamed of. Its historical credentials notwithstanding the Cadogan features all the mod cons you could wish for, as well as a highly convenient location just around the corner from Harrods and Harvey Nichols. If you're keen to lead your lady in the opposite direction you may look northwards to Hyde Park or eastwards to the delights of Mayfair and Piccadilly.
Before you venture out, however, you should really pop into the hotel's stylish bar and lounge. With its plush fauteuils, large fireplace and excellent cocktails this is just the place to put your feet up. Have afternoon tea with the civilised set or find a warm haven here after an evening out. But you needn't leave the premises if fine dining is on your mind, for you will find Langtry's not only elegantly decorated but also scoring very high in terms of cuisine and service – and better value than you might imagine. Hop across the road to the hotel's private tennis courts or call upon the concierge service and you will see exactly why this hotel is so beloved of those in the know.