In June I appeared on a local radio show called Profiles. Inspired by the iconic Desert Island Discs and hosted by Gillie Revill, this Talk Radio Europe programme profiles guests while allowing them to make a selection of six of their favourite songs.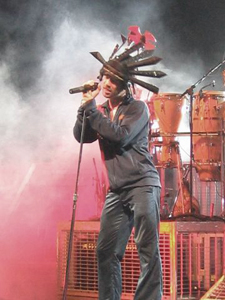 I thought it would be fun and have to admit that the real draw was the chance to have a selection of my all-time favourites played. A bit like having your own show, and for the many frustrated DJs out there (myself included) it's just the thing.
I'm too much of a talker to get very nervous, so I settled in and let Gillie ask me about my life and times – meanderings that have taken me via Holland, South Africa and Portugal to Spain. I suppose it's not surprising that I ended up in a cosmopolitan place like Marbella, given that I feel pretty international myself.
The songs had a special resonance for me, starting with Ma Cherie Amor (Stevie Wonder), which always reminds me of a year I spent in Vale do Lobo in the Algarve, Stepping Out by Joe Jackson, who I think is an underrated artist, and the equally under-promoted Talk Talk. In this case I went for Life's What You Make It, which takes me back to my university days. The nineties were represented by Jamiroquai's Virtual Insanity, reminding me of a great time spent in Cascais, near Lisbon.
I ended the show with some Bossanova, Mais Que Nada by Sergio Mendes and Vocé Abusou by Vinicio Moraes. You may not know them by name but you'll most likely recognise these songs if you hear them. I love this kind of music for its suave, upbeat and summery feel – you positively hear the waves breaking and feel the sunshine on your skin…
In case I've roused your interest, here are some other favourites of mine:
Robin S – Show Me Love
Underworld – Underneath the Radar
Crowded House – Distant Sun
Oasis – Don't Look Back in Anger
Prefab Sprout – Hey Manhattan
Golden Earring – Twilight Zone