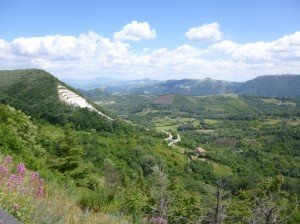 So there we were, on holiday in Calitri. The open French doors let in a cooling breeze and views of an open countryside of green valleys and forested hills. I was peering over a map of the region, as I am want to do when 'exploring' new territory.
Ever since I first arrived here and began studying the local maps, the name of Potenza seemed to be calling out to me – as it did on this particular occasion. I know, it's just a dot on a map with a name beside it, like so many others on a fold-out atlas, but while Bari, Matera, Brindisi, Foggia, Benevento and Cassino are all still on my to-do list, Potenza had, well, the most potent pull of all.
Maybe it's the fact that it looks pretty big but also quite close by and easy to reach. Sort of a 'let's do Potenza and check it out', the kind of thing you fit in between breakfast and dinner, hopefully with lunch overlooking some pretty square and ancient church in the historic quarter of the town itself. With this image firmly set in my mind I 'convinced' my wife until she acquiesced, and set off boldly for Potenza.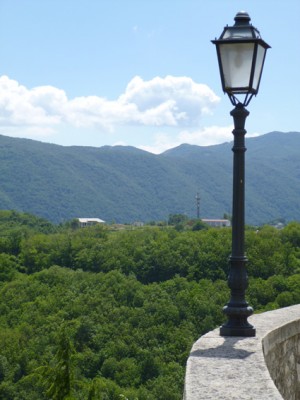 Getting to Potenza
I had the route all planned out, and it looked easy-peasy. I planned to hit the town, do lunch and be back in time for Lazio-Fiorentina, so to speak. But life is seldom that simple. Drive down the hill from Calitri, cross the valley road and head up to Pescopagano – easier said than done, but we got there in the end. Made a mental note to visit Pescopagano properly sometime and carried on into the forested hills.
We crested the bare pastures of this mountain without much fuss or hair-raising antics, and began our descent into a valley that makes this kind of follow-your-nose adventure so worthwhile. Now our (that is, Calitri's) valley is mighty fine, but this one right next to it is straight out of an alpine stage of the Tour de France, gorgeous. The villages were pretty too. We stopped to take some pics at Castelgrande, but I said "I'm definitely coming back here" when we wound our way through Muro Lucano.
What a picturesque place. I even thought of giving up on Potenza and exploring this small town clinging so spectacularly to a hillside, but by now Jackie was hell-bent to get on with the trip. On we strode, and after some more unexpected route deviations (people doing road signs should NEVER be local!) we finally approached the fair city of Potenza from the romantic vantage point of a three-lane motorway.
Potenza
Except, Potenza was not fair. We pulled off the motorway, thrust ourselves across the bridge and hoisted the rented Lancia Ypsilon up a steep hill, all the while avoiding cars, trucks, busses, scooters, cyclists, pedestrians and prams. Ok, I saw no prams but it adds some spice, don't you think? For spice there was very little of, at least that we could find. We just kept following this stupid road doggedly uphill, Jackie shouting "watch out!" and me gritting my teeth in the grim determination that I would find that f* quaint square or else.
In the end we admitted defeat, turning illegally like good Italians (partly because there is nowhere legal to do so) and rolling back down the same hill avoiding the same mad cacophony of vehicles launched at us from all angles. Casting a mean glance back at this 'stupid' town we hitched a ride on the motorway again, edging the car ever closer to the speed limit beep that comes with today's automobile. Gone was all the bonne humeur, now all we wanted was to get home fast.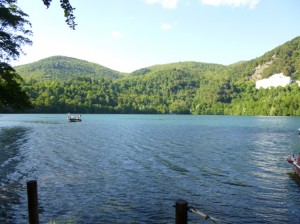 Almost there
All was going speedily to plan until about a kilometre or so after our turnoff towards the Calitri road at Rionero in Vulture. Traffic jam. Not a car moving, and there must have been a blockage further up (never got to see the cause of it all) as no vehicles were coming in the opposite direction. This turned out to be lucky, for it enabled us to follow the locals, turn around and head into Rionero, an experience in its own right, as it turned out.
We got into this moderately interesting town, crossed it, exited it and found we were heading in the wrong direction, so we turned back, crossed it again and were on our way out of the other end when we stopped some guys who looked like they knew what was going on. Having crossed the town twice more and asked for more directions, we finally glimpsed a turnoff that took us round Rionero in Vulture and towards Calitri.
"There are meant to be some lakes around here," I said, my spirits rising as we cascaded down narrow roads in thickly forested hill terrain. By now we'd been in the car for a couple of hours and some homemade lunch and a siesta were proving quite a lure, so we pushed the little Lancia down the track with Italian verve and gathered speed until it suddenly got dark in between the giant trees.
Instinctively I slowed down, rolling down what was now a level road broadening into a parking area in the woods. The sun was shining overhead but under the trees it was dark. And then we saw it, a beautiful alpine-green lake to the right. Little boats and pedalos completed the scene, with a fantastic mini Neu Schwanstein on the far side of the lake. The little wooden restaurants and curio shops seemed closed and a strong wind was racing down the hillside, over the lake and straight onto us, so we promised ourselves to come back and headed back to Calitri.
The lakes? Well, they're wonderful, I can highly recommend them, but I'll describe them in the next blog. Reliving that car journey has worn me out
PS We've since been told that Potenza does have a charming old centre, quaint church square and all…